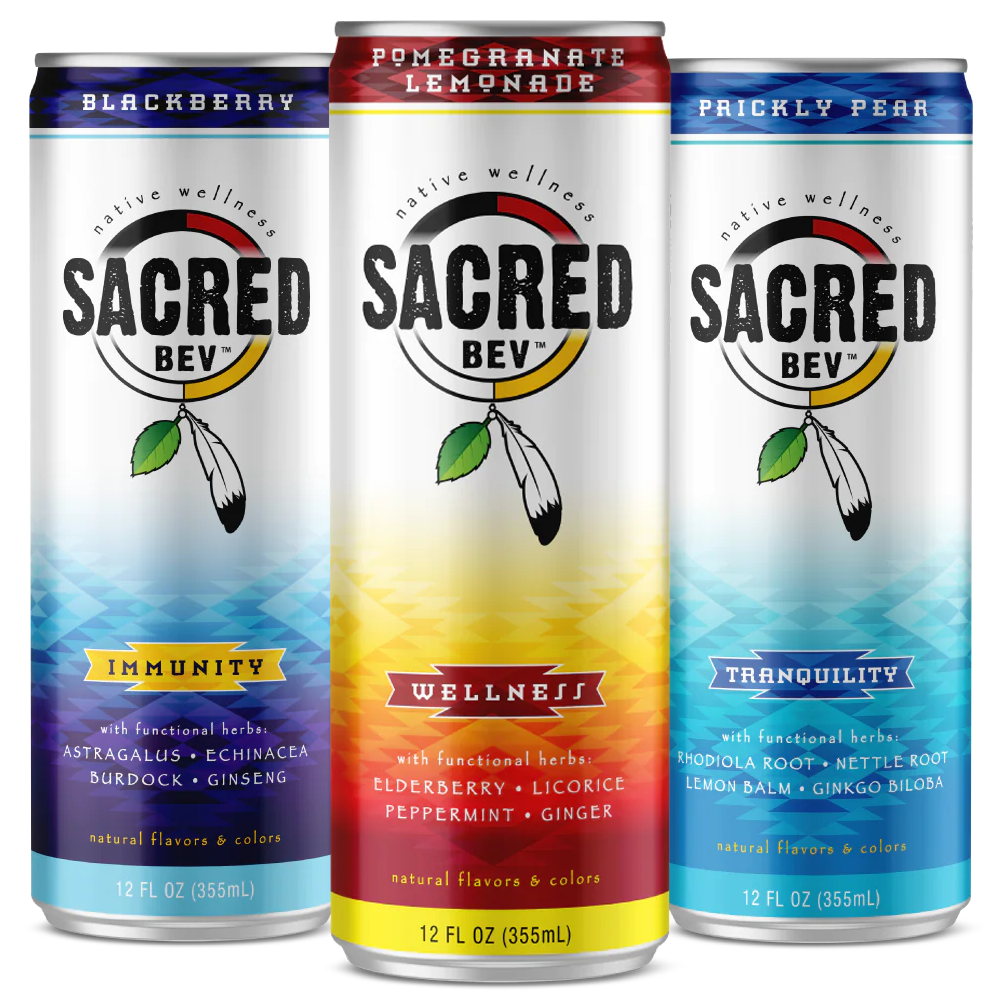 Mixed Packs
Each Mixed Pack will include all three flavors: Prickly Pear, Pomegranate Lemonade, and Blackberry.
6 Pack: 2 of each flavor
12 Pack: 4 of each flavor
Find tranquility with our Prickly Pear blend containing Rhodiola Root, Nettle Root, Lemon Balm, and Ginkgo Biloba Leaf.
Find wellness with our Pomegranate Lemonade blend containing Elderberry, Licorice, Peppermint, and Ginger Root.
Find immunity with our Blackberry blend containing Astragalus Root, Echinacea, Burdock Root, and Ginseng.
Sacred Bev is committed to giving back to tribal communities all throughout Indian Country. 
Nutritional information

Per Serving

Includes 12g of Added Sugars

24%

Prickly Pear ~ Proprietary Herb Blend

520mg

Lemon Balm Leaf • Rhodiola Crenulata • Ginkgo Biloba Leaf • Nettle Root

Pomegranate Lemonade ~ Proprietary Herb Blend

178mg

Elderberry Fruit Extract • Licorice Root • Peppermint Leaf • Ginger Root Extract

Blackberry ~ Proprietary Herb Blend

1140mg

Echinacea Purpurea • Burdock Root • Astragalus Root • Panax Ginseng Root
Blackberry and Prickly Pear Other Ingredients: Carbonated Water, Cane Sugar, Natural Flavors, Fruit and Vegetable Extracts (Color), Citric Acid, Malic Acid, Stevia Reb A 99% Good & Sweet®*
Pomegranate Lemonade Other Ingredients: Carbonated Water, Cane Sugar, Natural Flavors, Citric Acid, Malic Acid, Stevia Reb A 99% Good & Sweet®*
*Good & Sweet® is a trademark of Blue California